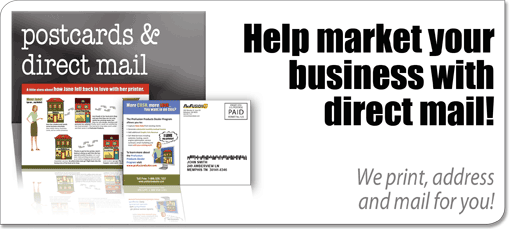 Your customers need help with direct mail?
We Produce Exceptional Results
with Targeted Direct Mail Strategies
Print & Copy Factory is a one-stop resource center offering comprehensive marketing, design and printing services which can produce exceptional marketing results. Because we know that just sending out a postcard may not get the results you want. There needs to be a strategy, calls to action and the right type of design that generates results.
From Bulk Mailing, Variable Data Printing, and Intelligent Bar Codes, we are a preferred provider of the Every Door Direct Mail program.
Free consultation
Mailing services, including CASS Certification, NCOA move update, walk sequence, duplicate check
Finishing services such as collating, folding and tabbing
Free Bulk Rate Permit usage (as well as established non-profit)
BRM & CRM mailings

Intelligent Bar Codes
Our talented team will guide your customers through the process and manage all aspects from start to finish.
Success of a direct mail campaign can be broken down into three primary components:
The mailing list or target audience
The offer or incentive for the customer to buy the product
The creative design and message conveyed in the overall campaign
"Hi Becky!!! Yes we have had great response! We had a great turn-out on the 7th and are almost totally booked up for the 21st. Thank you so much! It was really great to work with you and your team and we will be using you services again FOR SURE for mailings in the future!!! Thanks again for all of your help!"
- Kelley Bouma College Planning Consultant